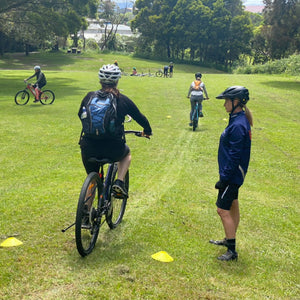 Progressive skills and trail riding application sessions.  Each session builds on what was learnt in the previous one, so that riders add to their skill set as we move through the programme.  These sessions are deliberately spaced 2 weeks apart to give riders the time to practice skills between sessions.

LEVEL: Beginner/Early Intermediate - Grade 2 & 3 trails
LOCATION: 2 sessions at Bike Crafts Private MTB Teaching Facility - TARADALE and 2 sessions at Panpac MTB Park, WHIRINAKI
SESSION TIMES: Sundays: 1pm-3pm
DATES: TBA

COST: $280 for 8 hours of MTB fun
Nail some basic techniques, build confidence and make your riding a whole lot more fun.
Please note that we need a minimum of 4 people to go ahead. To ensure quality of sessions, groups are limited to a maximum of 12 riders.