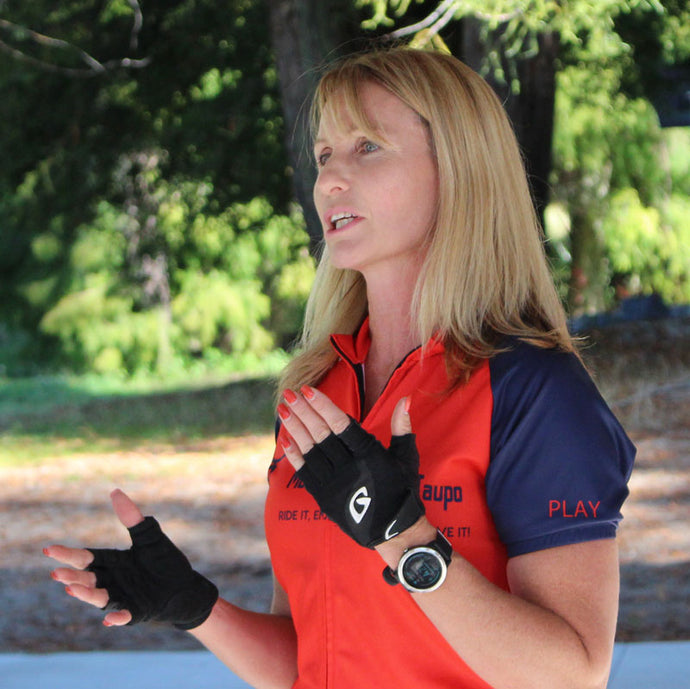 Little did Paula Pietersma know that buying a mountain bike for her 11-year-old son would result in a new business, competing in a sport she never even knew she loved, and -in fact - a whole new lease on life.
It was 2014 when Paula and her husband purchased a mountain bike for their 11 year old son Dan. Like good parents they got involved with his new hobby and started riding with him on the tracks. What Paula didn't expect was how much she would love it herself and how when Dan got good at it and started competing, it would be the start of a whole new career path for her.
"From the time I started riding with Dan, I was hooked on mountain biking and now I've started competing too. I love everything it provides in terms of health and  social benefits, meeting new people, learning new skills, facing challenges, conquering challenges, bettering myself and helping those around me enjoy it as much as I do", says Paula. "It's a fantastic sport and recreational activity that opens the door to so many new opportunities and experiences in the great outdoors."
Paula has now competed in numerous cross country (XC) mountain bike events and placed in most of them, including: the 2017 World Masters Games (Age Group Gold Medal), Day/Night Thriller (6 hour solo and 12 hr teams competitor), Huka Cycle Challenge, Whaka 100km, Ruapehu Express, Craters Classic, Nduro Winter Series, Colville Connection and T42, just to name a few. She also got involved in the Taupo MTB Club Junior Development Squad in 2015 helping develop Dan and other young riders in the region, enhance their skills and enter the XC racing scene. For the past six years they've enjoyed incredible success with many of the top youth riders in the country each year coming from the Taupo Squad.
Working with these talented young people, Paula realised there was a skills coaching gap for young mountain bikers wanting to get into competitive teams. "Bike Taupo does a lot of work with getting kids on bikes. Everyone in town knows Kath from Bike Taupo and the great work she does. But where to when they want to take it to the next level?  I also had many adults asking for help with their riding as they were keen, but not confident on a bike. I decided to get qualified and start a business helping those who were looking for mountain bike coaching".
Paula soon passed her Level 1 Professional Mountain Bike Instructors qualification and became a Cycling New Zealand Accredited Coach and in March 2020 Mountain Bike Skills Taupo was born. "I am loving providing an opportunity for people to improve their MTB skills and open new avenues and explore all that mountain biking has to offer. For youth between 7 – 17 years we offer skills training with courses catering for all abilities. We have a term programme starting in Term 4 and our Holiday Programme kicking off next week. For older youth and adults we offer individual coaching sessions, women's sessions, event preparation and guiding at Craters Mountain Bike park. I want everyone to gain the confidence to get out on there on a bike and enjoy riding as much as I do."