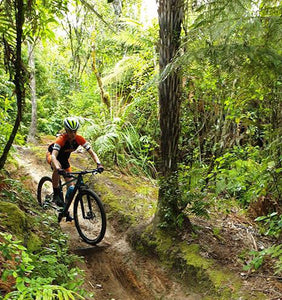 Sessions for young mountain bikers – heavy focus on skill development for 10 year olds and upwards with a Certified and Experienced MTB Coach.  These Modules have levels within them.  Upon completion of the sessions your child will receive a certificate indicating the level they have achieved.
NOTE: A MINIMUM RIDING LEVEL IS REQUIRED - This programme has a heavy skills focus.  We will be learning to ride some of the more technical features found on trails so riders do need to already have basic bike handling skills, a reasonable level of fitness and trail riding experience.  Attendance of a Bike Craft After-School Programme is the perfect pre-requisite.  If you have not done a Bike Craft Programme, please email paula@bikecraft.co.nz to arrange assessment of your current riding level to ensure the minimum standard is met before registering. 
MODULE 1: Level 1 Achievement (ride Grade 2 and 3 trails with confidence)
Riders who achieve Level 1 will be able to progress to Level 2 (ride Grade 3/3+ with confidence) in Term 3.
LOCATIONS: 2 sessions at Bike Crafts Private Bike Facility - TARADALE (meeting place will be advised to those on the course); 3 sessions at Panpac MTB Park - WHIRINAKI

FREQUENCY: Weekly for 5 sessions commencing Sundays 

SESSION TIME: 3:00pm - 4:45pm
COST: $220
Note we need a minimum of 5 for this course to go ahead. If we don't get 5 participants you will be notified and a full refund given.